Dimpool News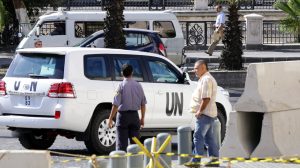 International inspectors began the enormous task Sunday of destroying Syria's stockpile of chemical weapons, United Nations officials said, racing to meet a tight deadline to eliminate President Assad's chemical weapons program. The disarmament experts arrived in Damascus on Tuesday to carry out their mission to dismantle and ultimately eliminate Syria's estimated 1,000-ton arsenal.
By the end of the day Sunday, a combination of both weapons and some production equipment would be put out of order, a U.N. officials said.
"Today is the first day of the phase of destruction and disabling. Verification will also continue," the official, speaking on condition of anonymity because of the sensitivity of the matter. "The plan was that two types categories of materials would be destroyed: one is equipment for making  weapons  — filling and mixing equipment, some of it mobile, and some it static. The other is actual munitions."
Developed during the 1980s and 1990s, Syria's chemical arsenal is believed to contain mustard gas and the nerve agents sarin, VX and tabun. An advance team of experts arrived in the country last week to lay the foundations for a broader operation with nearly 100 inspectors. Those already in the country have been double-checking Syria's initial disclosure of what weapons and chemical precursors it has and where they are located, while others have been planning logistics for visits to every location where chemicals or weapons are stored.
Personnel from the U.N. and the Organization for the Prohibition of Chemical Weapons make up the team. On Friday, a U.N. spokesperson said the team hoped to begin onsite inspections and destruction of production facilities in the coming week. The inspectors' progress comes as Syrian President Assad maintains his government did not use chemical weapons on its citizens. In recent weeks, a U.N. report found that the poison gas sarin was used in an attack that killed hundreds of civilians — U.N. Secretary-General Ban Ki-moon called the incident a war c rime.
In an interview in a state-run newspaper Sunday, Assad said the Syrian regime began producing chemical weapons in the 1980s to "fill the technical gap in the traditional weapons between Syria and Israel." He said production of chemical weapons was halted in the late 1990s, but provided no further information. Syria's conflict evolved from largely peaceful protests in March 2011. In the two years since, it has since has laid waste to the countries' cities, shattered its economy, killed around 100,000 people and driven more than 2 million people to seek shelter abroad. The violence affects nearly every corner of Syria, which has become a patchwork of rebel-held and regime-held territory.