DANNY AYALON IS RULING THE POLITICS ON THE INTERNET
Dimpool News Analysis
14 September 2011
These days, Danny Ayalon, Deputy Minister of Foreign Affairs of the State of Israel who has been selected as one of the most successful politicians on the internet by Dimpool – Web Based Policy Center and Foreign Policy Magazine, is ruling the politics on the internet with his six-minute long YouTube videos.
His first video has been watched by  more than 380K viewers just in two months. Although the audio language of the videos is English, they have subtitles in ten different languages including Japanese, Greek and Chinese.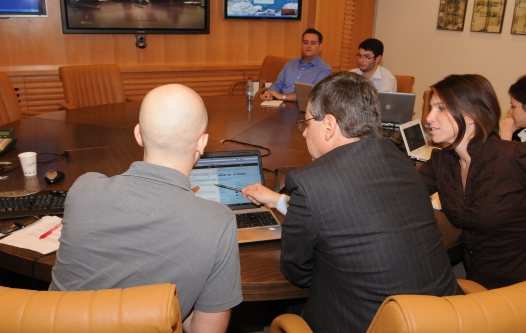 [wpcol_1half id="" class="" style=""]
First video: Israel Palestinian Conflict: The Truth About the West Bank
In the video DMF Ayalon explains the history of the West Bank and why it should be called "disputed territories" instead of "occupied territories". Until he reaches this conclusion he set forwards international legal precedents and historical facts. In just six minutes he perfectly summarizes the timeline from the establishment of the Israeli State to the modern day. Even though DMF Ayalon has been criticized extremely by the Chief Palestinian negotiator, Dr. Saeb Erakat, his offers for a public debate has been rejected by the chief negotiator. Moreover, none of the high ranked  Palestinian officials has challenged DMF Ayalon regarding his arguments in his video.

[/wpcol_1half] [wpcol_1half_end id="" class="" style=""]
Second video: Israel Palestinian Conflict: The Truth About the Peace Process
In his second video, DMF Ayalon gives information about the peace process -and again based on historical and legal facts. He explains the events which are occurred during the peace process with Palestine and that Israel tried every peaceful solution yet, also it needs to protect its people against the terror attacks. He concludes the video by explaining that Israel is always ready for negotiation and agreement.

[/wpcol_1half_end]
Dimpool Analysis
First of all, we have to admit that the videos are not only informative but also entertaining, so you can watch them more than couple of times without getting bored. Although they explain many complex legal issues, the language of them is very clear and simple so even people who do not have any knowledge about those issues can understand them easily.
DMF Ayalon narrates the videos as if he is an objective observer no and Israeli official, so even though the Israeli Deputy Minister of Foreign Affairs narrates them, the videos appear as reliable sources about the current Israeli – Palestinian disputes, as they provide information more than conclusions.
The videos include well organized and few different cartoon characters which makes it easier for people to understand the subject and visualize the events.
Even the videos are labeled as Israeli propaganda tools, the efforts of finding and explaining legal and historical facts should be considered as a reason for at least watching them for once.
According to our research the first video had a huge impact on public opinion, shifting support from Palestinian side to Israeli State. Therefore, as an independent Diplomatic Analysis Center we suggest Palestinian officials  instead of criticizing Israeli videos and having unilateral debates, they should prepare their own YouTube videos, or challenge DMF Ayalon for an open debate in order to discuss mentioned issues. Otherwise it will not be long till DMF Ayalon and StandWithUs organization to gain whole world's support on their cause.
You might also want to read

[srp srp_number_post_option='5′ srp_widget_title=' ' srp_thumbnail_wdg_height='60' srp_thumbnail_wdg_width='60' srp_include_option='1403, 626′ srp_thumbnail_option='yes' srp_content_post_option='titleonly']