FREEDOM TO PROTEST IN TURKEY
Dimpool Analysis Team
7 September 2011
We all know that the freedom to protest is a significant part of the bedrock of democracy, since all individuals need to express themselves. This is a fundamental right for all citizens in every country, because people have the right to demand more rights, freedom to live better. Article 19 of the Universal Declaration of Human Rights says that  "Everyone has the right to freedom of opinion and expression; this right includes freedom to hold opinions without interference and to seek, receive and impart information and ideas through any media and regardless of frontiers".

[wpcol_1half id="" class="" style=""]
Protest risks in Turkey
Protests are an efficient way to demand a variety of changes in domestic government practices, and for that reason many people gather to express their beliefs. Expression is a human right that shouldn't be violated by power.  Rights were created to protect individuals and their values against pressure or torture, but in Turkey defending human rights through protests cause a fear or threat for officials and they resort to violence against civilians, such as using gas, batons, and other weapons.
Activists are welcome to march for support of the people's uprising for freedom and social justice, but the result of protests can include brutal repression by the higher powers. As a result, when activists try to implement rights or voice a desire for freedom, their actions create punishment for them instead. In Turkey, peace activists have to meet with police forces when they want to prevent wars or unjust situations. People prepare marches and slogans to announce their demands to change consolidated order effectively, and perhaps individuals want to create new laws to promote lawful rules or their own interests. Institutions are working with humans, so only humanity has a big role to change the system. We decide to build democracy or fascism – it is our choice and we have the capability to reduce limitations and prohibitions.
Police brutality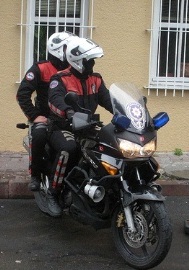 Police see political protesters in Turkey as harmful or dangerous, so most protest groups contact the police to request permission to hold a protest. In many cases, protests are refused or they place rules and/or conditions that greatly hinder the freedom to protest. These days, Turkish people remember about Muhammed Cihad Saatçioğlu, who participated in a protest in İstanbul to voice his desire to prevent war with the Kurdish people, but after only a few moments, police forces detained him for trial.
He is member of the DSİP (Revolutionary Socialist Workers' Party), and he is actually a peace activist in Turkey, and most of his friends describe him as a delegate for peace. Assize Court sent him to prison at Metris and he was declared a member of an illegal terror organization. Police forces intervened with gas-bombs, which are a regular practice, but their intervention method violates people's freedom to protest in Turkey. This intervention violates people's values, beliefs, and thoughts in all actuality, and if politicians consider Turkey a democratic country they should see what individuals want. People have different demands, perceptions, and values, and these things are created by their differences, so it stands to reason that individuals need to be free within their common boundaries. Only democratic speechmakers do not provide rights or freedoms, such as Turkish officials sending people to prison. They try to control peoples' diverse political thoughts and rights, so Turkish people have chains that prevent the freedom to protest.
Choosing violence by police brutality does not encourage freedom and peace among citizens—it binds humanity, peace, justice and combat against war. After the ultra-nationalist wars, believers in peace decreased to protect their own safety, and today, these kinds of activists are the only hope for us all.
Muhammed Cihad
Muhammed Cihad's intervention is not a new thing in Turkey. Some University students gathered to protest and demand "equal and free education" in Ankara. Of course, students created posters to describe what they desired and police forces stood their ground at the entry of the campus. However, the protest's goal was to raise a voice towards the AKP, so the students attempted to breach the barricade. After this movement, officials used gas against students, which is very harmful for the eyes.  Police forces should allow the event to continue when people are holding a protest without violence to prevent conflict among groups, but this kind of practice encumbers the domestic democratic position of Turkey. Police should construct a balance with an enduring obligation to keep the peace.

[/wpcol_1half] [wpcol_1half_end id="" class="" style=""]
Naciye Tokova
In southeast Turkey, Naciye Tokova carried a poster that read "Free leadership and free identity, or boycott and revenge" in Turkish. That poster sent her to prison for seven years.[1] Tokova did not know Turkish, she was only speaking in Kurdish and the poster was written in Turkish, but she was put on trial and charged as a terrorist. There was no opportunity to look for evidence to support her, and neither did the state believe that officials should face an investigation. Police officials can take older people as members of terror organizations, even if they are not members in actuality. They may only display posters that express their desire to preserve their rights, for instance some mothers wanting to protect children who are missing after being held for trial or found guilty after holding protests.
Celal Bayar University protests
On December 23, 2010, a group of students from Celal Bayar University held a protest against Bülent Arınç who is the Deputy Prime Minister. These students specified that they were "followers of Mustafa Kemal Atatürk" and that they received their mission directly from him. After that speech, the University's rector threatened students with expulsion and he prohibited political slogans at the University to prevent opposition.
These students were supported by non-governmental organizations, and they staged another protest. However, after the protest on May 11, 2010, students were turned over to government officials. Unfortunately, young people suffer from tremendous pressure when they dare to voice their rhetoric.
T-Shirt incident
On August 29, 2010, G.Ç. wore a t-shirt that criticized Prime Minister Recep Tayyip Erdoğan at Gaziantep. It created a reason for "punishment" when he was hanging out with his friends because he was put in jail and other people threatened him because of his opposing stance. Police officials suggested that he wear his t-shirt reversed.
A caricature can be a political expression or a way of protest for people, and it is our own choice, so can we think we are an advanced democracy when we can't wear what we want? An attempt to discuss the dangers of gas bombs, including a mention of Metin Lokumcu's death due to pepper spray at the hands of the police. Police were secure to guarantee the public's security, but in Turkey this kind of security becomes a disadvantage for us since their practices cause death.
Metin Lokumcu
On May 31, 2011, a mass meeting was organized at Artvin, where many groups of people came together after R.Tayyip Erdoğan's meeting. Turkish police used pepper spray to break up the protest and it caused a heart attack for Metin Lokumcu, a retired teacher by trade but an activist at that time. His death was not abnormal per se, because after police attacks excitement and fear is very natural, and his reaction at the police brutality was justified. Last year, a woman miscarried her baby at a protest, because police tormented her, but the authorities' response was that since she was pregnant, she should not have participated. Their stance was that her desire for more and better rights and democracy should not be a sin for them to counter.
Summary
Activists should develop effective and intelligent organizations for standing up for the freedom to protest against injustice, torture, and oppression. Drawing a circle around people expressing opinions is not advanced democracy, especially when police intervene. Politicians talk about treating people with love and respect, but this kind of hug closely resembles a chain in some places. After reading this, people know gas-bomb's effects and the danger in their lives, because it is a regular practice to dispel groups at protests. On the same note, gas-bombs or batons are not real solutions in democratic countries, anyway, since mutual dialogue or reconciliation among the groups is far more influential when the desired end result is peace.

[/wpcol_1half_end]
---
[1] http://www.sendika.org/yazi.php?yazi_no=39448#.TmS2e6uNtNk.twitter
* Tugce Ercetin is a volunteer expert of Dimpool – Web Based Policy Center. Currently, she is an MA student on international relations.
You might also want to read

[srp srp_number_post_option='5′ srp_widget_title=' ' srp_thumbnail_wdg_height='60' srp_thumbnail_wdg_width='60' srp_include_option='1266, 576′ srp_thumbnail_option='yes' srp_content_post_option='titleonly']