CHAIN OF EVENTS IN TUNISIA
Dimpool Analysis Team
Basic Pattern Analysis
30 March 2011
Basic Timeline
December 7, 2010
WikiLeaks U.S. Embassy Cables were published regarding President Zine El Abidine Ben Ali's family which indicates so many corruption claims.
December 17, 2010
Tarek al-Tayyib Muhammad Bouazizi (Mohamed Bouazizi) set himself on fire in protest of the confiscation of his wares and the harassment hat was allegedly inflicted on him by a Tunisian policewoman.
December 18, 2010
Several hundred youths –angered by the angered by the Mohamed Bouazizi incident- gathered in the city of Sidi Bouzid, smashed shop windows and damaged cars.
December 19, 2010
Hundreds of extra police forces brought into Sidi Bouzid and had established a presence on the streets.
December 22, 2010
Houcine Falhi, committed suicide by electrocuting himself in a demonstration, after shouting out that he was tired of being unemployed.
December 24, 2010
Mohamed Ammari was killed by a bullet in the chest when police opened fire on protesters.
December 27, 2010
Social protests against unemployment spread to Tunis (the capital of Tunisia).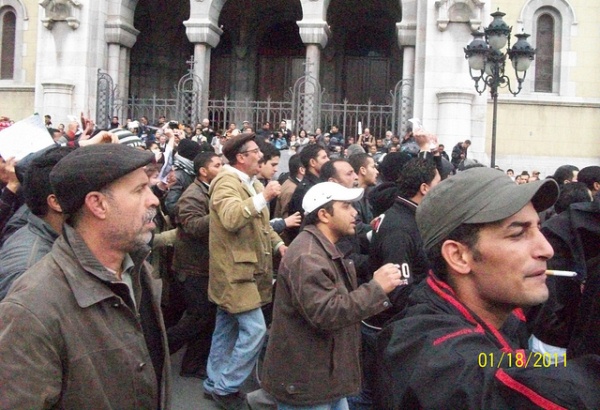 December 28, 2010
President Zine el Abidine Ben Ali visited Mohamed Bouazizi in hospital in order to quell the riots against his government.

December 30, 2010
Chawki Belhoussine El Hadri was shot dead by police during protests.
January 4, 2011
Mohamed Bouazizi died in Ben Arous, at 5:30 p.m.

January 7, 2011
More than 7600 lawyers and most of the teachers went on strike.

January 14, 2011
President Zine El Abidine Ben Ali resigned after fleeing to Saudi Arabia.
Key event
On December 17, 2010 a female police officer, Faida Hamdi and her aids began harassing street vendor Tarek al-Tayyib Muhammad Bouazizi (Mohamed Bouazizi) and confiscated his wares claiming that he lacked a required permit to sell his wares.
After confiscation and harassment procedure, Bouazizi first went to the governor's office to complain, yet the governor refused to meet him. Then Bouazizi acquired a can of flammable material, he doused himself in front of a local government building and set himself alight.
Public outrage immediately grew over the incident, leading to protests that spread to Tunis and resulted with President Zine El Abidine Ben Ali's resignation.
Future policy scenarios
Unlike Lebanon, Tunisia has a stable political structure, as 98% of its population is constituted by Arab Muslims. Tunisian public a high education rate –over 73%- yet on the other hand it has a high unemployment rate especially among the university graduates of its population.
Even though political surveys imply that public opinion of Tunisia is divided over its future political system, one thing is certain: Tunisians are discovered freedom and democracy, and they have no intention to have another counterrevolution. Because of its small population –around 1 0-11 million- it would be easier to manage the country, so if Tunisia can manage to fix its economy it can be the best candidate as a "model" for Middle Eastern countries.